KiD - an interactive data literacy workshop platform, helping young children to learn about data and visualisations through games!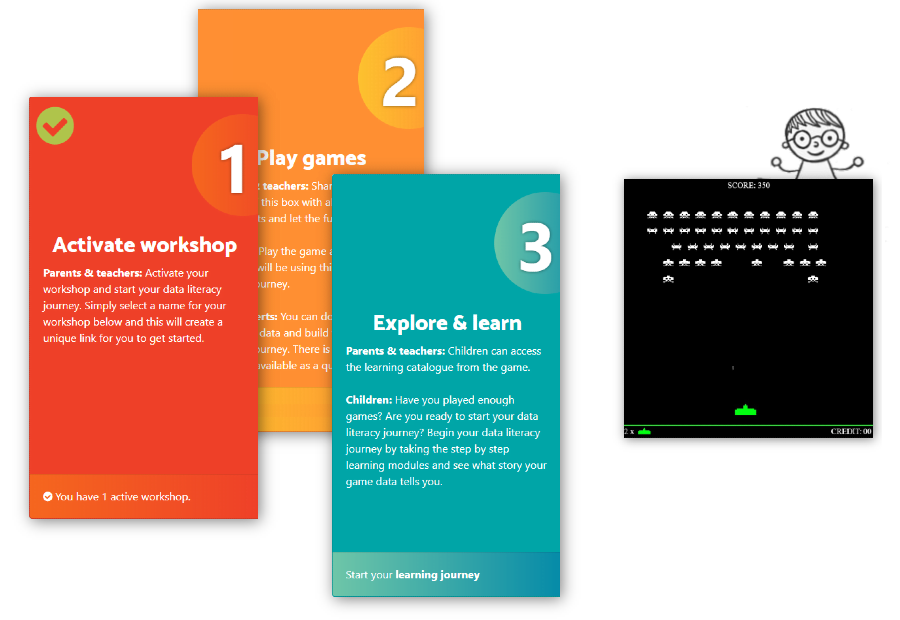 What others say about KiD
It is always nice to hear the positive impact KiD has on data literacy for children...
Data literacy is the key to understanding the world around us. The Kids in Data and their gamified learning experience with Space Invaders is the perfect way to enhance the data literacy of children. Humanity has learnt so much by going to the moon and building the space station. To get a good return from our investments we need to ensure the next generation understands how to access and use these data. Kids in Data provides the platform to start that date literacy journey.

Dr Richard Barker
Chair of the NASA GeneLab Advance Plant Research Group
An interesting and engaging data literacy platform that my year 7 students enjoyed. The topics covered are relevant to any broad KS2/3 curriculum and the addition of a game aspect adds to the experience. The teacher's console is easy to use, allowing pupil engagement data to be easily analysed.

David Price
Classroom Teacher of Computer Science
Bishopshalt School, Hillingdon UK
The understanding, organization and communication of information is paramount in the development of scientifically literate, critical thinking, life-long learners. Kids in Data and the "Space Invaders" data literacy game is a fantastic way to engage learners in data handling and communication. This is a multi-disciplinary skill that can truly help a student throughout the rest of their lives. It's also fun!

Gil Cauthorn
Astrobotany Research and Education Program Coordinator, Osaka, Japan
Previous
Next
Want to customise kids data literacy journey? Need advanced tutorials? Data expert options provide a number of additional features to extend the platform to your own workshop needs.
REST API
A REST API is available for your workshop, allowing direct integration to modern analytics tools.
Excel/CSV export
Download your data in a format that suits your needs, whether it is Microsoft Excel or comma-separated value (CSV) file.
Qlik Sense application
Download our simple Qlik Sense template application and build your custom workshop faster.